The following is my GTD setup. I use Remember The Milk Pro to manage my todos.
Basic setup
Create 4 smart-lists with specific tags as search criteria. Depending on your todolist software, you could just use tags and be done with it.
gtd:next 🤜 for tasks to do with the tag gtdnext

gtd:waiting ⏰ for tasks to do with the tag gtdwaiting

gtd:someday 🏃 for tasks to be done someday tagged with gtdsomeday

projects-current for hobby tasks tagged current

For variety of things I am interested in.
Relatively large tasks like working through a math book or a side-project.
Helps me choose tasks from the priorities I've set before for hobbies (picked from other lists).
Other lists
Create lists for other things (entertainment, work, etc). Once done, this is what it would look like: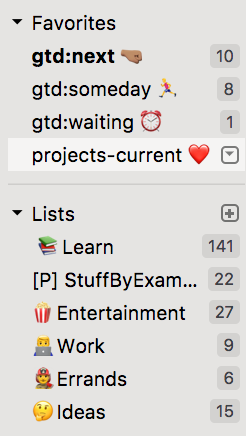 Workflow
When adding new tasks, if you cannot decide which list your tasks belongs, your todolist software most likely has an Inbox. Just add it there.
Every Sunday
Review tasks from Inbox and move to appropriate list or delete if not required. Deleting is important. Helps to throw away things you are not interested in anymore.

Pick up tasks from other lists that can be completed the upcoming week.
Everyday
If you want to up the ante and go further with your GTD setup, checkout part-2 here