If you haven't read about my GTD setup - checkout part-1 here.
Create a routine
I created a bunch of recurring daily tasks in a list called Routines.
Routines denote alloted time per day and are independent of other tasks.
They are generic enough to accomodate tasks from project-current or Work list
Keep the total time required for routines short. My routines span only a max of 3hrs a day.
Leave ample room for unexpected things. You are not a machine to do the same thing everyday.
Don't try to setup a perfect routine.
Routines may change.
Here's what my first-routine looked like: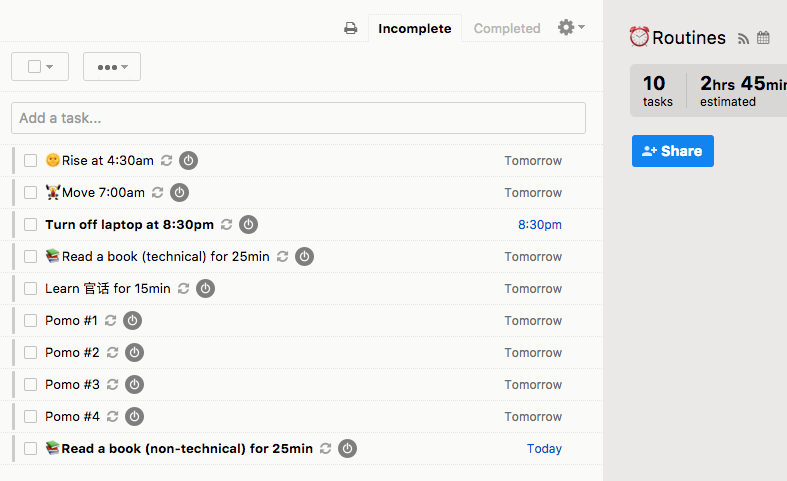 Now, if you are using Remember The Milk, change the criteria for the gtd:next 🤜 list to the following:
(tag:gtdnext AND (due:never OR dueBefore:tomorrow)) OR (listContains:Routines AND due:today)

This will display all the routine tasks in gtd:next 🤜 list. I can see everything for the day in one list.
Match a routine task with those in projects-current
Routine tasks are not free-form. But they do have a bunch of options in projects-current. I like to spend my spare time based on mood.
If I'm feeling tired after work and want to read a book, then I get a choice to pick from tasks like:
Zen and the Art of Motorcycle Maintenance
Naked Statistics
Traction
This guarantees that to complete my routine task, I don't have to spend lot of energy to push myself to do it.
Visualize achievements
Being able to see what I've achieved in the last few days motivates me a lot.
I don't mean win-the-nobel-prize achievement. I mean stick-to-routine achievement.
I made an applet on IFTTT to put tasks on Google Calendar when I complete them. All I have to do is add the trackthis tag to any task I want to record on Google Calendar (because I don't want all tasks to show up there). Then, I open the calendar called "Things I do" and I see all my routine tasks there. I can see how effective a routine has been and if required, I can make changes to it.
Create a calendar on Google Calendar to track routine tasks. Call it something special (because you like to celebrate life).
Visit the applet on IFTTT
Turn on the applet.
Choose the calendar you created.
Now whenever you add a routine task, use the tag trackthis
An event gets added to Google Calendar when the task is completed. The amount on time you spent on the task is not mirrored. But you can see an overview of the list of tasks completed during a day.